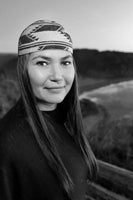 The Artist
My art is inspired by my Yurok, Hupa and Karuk culture; by earth, river, family and love. When I create art, it reminds me of who I truly am and where I come from. My work honors the past, present and future, while always remaining mindful of my children, family, elders and community. I have not found a favorite medium, which keeps things interesting and allows me to create art in many forms including traditional basketry and regalia, jewelry making, painting, drawing, ceramics and nature photography mixed with digital design.
From a very young age I was guided by my patient and skillful mother who is a well-known basket weaver and mixed media artist. My most valued artistic contribution is watching the regalia that I've made dance in my people's ceremonies, which to me is the highest honor an Indigenous artist can receive.
I am a Yurok tribal member and live with my husband on the Yurok Indian Reservation in Klamath, CA. Together we are raising four strong children along the Klamath River, which allows us to teach them traditional ways of living. In addition to my passion for art and undying need to create, I am also the Yurok Tribe's Environmental Program Director. I have a B.S. in Environmental Science from Humboldt State University along with minors in Art Studio and Native American Studies. For me, it's necessary to use both sides of the brain, the logical/scientific and the artistic/creative.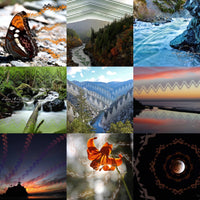 Nature Photography & Digital Design
These prints are all original photographs from the rivers and mountains of my Northern California homeland. The digital elements incorporate traditional basket designs of the Yurok, Hupa and Karuk people. For me these pieces are a way to bring the natural world and part of our indigenous identity into our indoor spaces. They are a reminder that we are a part of this earth, here to bring respect, balance and renewal – not to master it. The traditional basket designs woven throughout the landscapes represent our fingerprints as the original caretakers of this earth. Since the beginning of time, the people of these rivers and mountains have lived a completely interdependent existence with the natural world. We consider ourselves a part of something larger and cannot exist without these connections. As defenders of the sacred, it is our responsibility to respectfully maintain the landscape as we always have – with fire, sustainable harvest, and reciprocity. This relationship has existed for millennia and our fingerprints have been left across the landscape.